Article Highlights
As a distinguished facilitator in talent acquisition, Alleaz serves as a vital conduit within the Salesforce landscape, focusing mainly on nCino staffing. Our mission is to enhance the dynamics between customers and employees, all within the confines of a robustly secure cloud-based milieu. Our approach is about filling vacancies and strategically aligning the right talent to foster optimal interactions and drive business growth.
As we gaze into the future, the Salesforce and nCino spheres are forecasted to be the birthplace of an impressive 9.3 million fresh career paths and to infuse an extraordinary $1.6 trillion into the global economy through new business earnings by 2026. Alleaz is an essential conduit for acquiring uniquely skilled professionals amid this transformative surge. Our role is to witness this evolution and actively sculpt it by bridging the gap between specialized talent and the industries that need them.
Steering through pivotal currents such as the metamorphosis of the digital realm, the fusion of customer experiences, and the implementation of Environmental, Social, and Governance (ESG) endeavours, Alleaz's talent strategies equip enterprises with the necessary tools to maintain their competitive edge and propel their success in the ever-changing digital terrain. Our approach is about adapting to change and leveraging it to create new opportunities and drive meaningful progress.
Contractor of Talent Solutions for nCino
Enterprises persistently seek out the elite talent within the swiftly transforming digital terrain to fuel their growth and prosperity. As the call for specialized competencies within the Salesforce ecosystem escalates, corporations pivot towards talent solution purveyors like Alleaz to serve as the vital link. This discourse delves into the significance of consultancy and talent solutions, spotlighting Alleaz's function as a facilitator for nCino, a frontrunner in the provision of cloud-centric banking software.
The Salesforce Ecosystem and the Role of nCino
Salesforce, a global leader in customer relationship management (CRM), has revolutionized the CRM space with an ecosystem beyond its core functionality. With an overarching mission to personalize every customer interaction, Salesforce harnesses the power of innovative tools such as Einstein GPT, Data Cloud, and Customer 360, the world's leading CRM. This comprehensive ecosystem unifies various aspects of a business, including marketing, sales, service, commerce, and IT, fostering growth and productivity across the board.
In this robust ecosystem, nCino plays a vital role. nCino, a cloud-based banking software built on the Salesforce platform, aims to optimize all customer and employee interactions within a secure cloud environment. The result is enhanced transparency, efficiency, and profitability for banks. The nCino Cloud Banking Platform, a secure cloud-based solution, empowers institutions with an end-to-end platform that covers multiple business lines and merges capabilities for a seamless experience.
The rapidly growing demand for nCino specialists illustrates the platform's increasing value. nCino's revenues reflect its growing importance, with a compound annual growth rate of 54.2% from fiscal 2018 to 2020. Despite this growth, sourcing the right talent remains a challenge.
This burgeoning Salesforce ecosystem is not just thriving but is also having a substantial impact on the global business landscape. According to an IDC study, Salesforce and its partner ecosystem are projected to create 9.3 million new jobs and generate $1.6 trillion in new business revenues worldwide by 2026. These staggering figures underscore the vital Role and swift growth of the Salesforce ecosystem in the international business world.
The Growing Demand for Specialized Talent
The consultancy industry has experienced a robust expansion in recent years. After a pandemic-induced contraction in 2020, the management consulting industry rebounded resiliently in 2021 and is poised for continued strong growth into 2022, according to PrepLounge (2023). The management consulting services market is projected to register a compound annual growth rate (CAGR) of over 5.5% during the forecast period, as stated by Mordor Intelligence (2023).
This growth is fueled by an escalating demand for management consultancy services, with the primary focus being on offering company executives access to industry-specific specialists and subject-matter experts. Within the Salesforce and nCino ecosystems, this burgeoning demand prompts a specific need for adept professionals who can effectively harness these platforms' potential. Talent solution providers, such as Alleaz, have become indispensable in bridging the gap between the demand for specialized talent and its supply.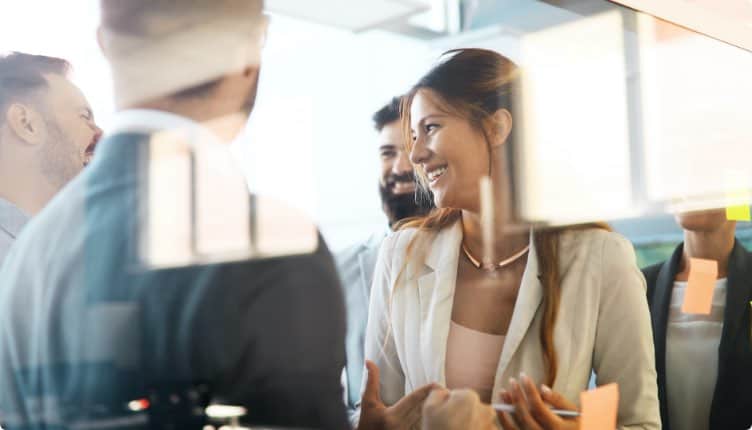 Key Trends Addressed by Alleaz in 2023
As enterprises traverse the consultancy sector's dynamic terrain, many trends are sculpting the Salesforce and nCino spheres, as well as the expansive financial services industry. Alleaz stands at the forefront, ready and equipped to assist businesses in confronting these emerging patterns, which encompass:
Digital Transformation Continues to Drive Success: Financial institutions increasingly focus on digital transformation to stay competitive. This includes leveraging cloud solutions like nCino to manage portfolios and improve customer care. Alleaz, with its deep expertise in the Salesforce and nCino platforms, can help businesses navigate this digital transformation journey.
Hybrid Customer Experience is Key: While digital conduits are indispensable for routine transactions, customers cherish human engagement when it comes to momentous decisions. Consequently, businesses are pivoting towards a multi-faceted, customer-oriented strategy. Alleaz's talent strategies stand ready to assist businesses in identifying the apt talent to orchestrate this blended customer experience. Our mission is not just about filling roles, but about strategically aligning the right talent to foster meaningful interactions and customer satisfaction.
Growth in Digitization and Automation: As businesses face slower growth and a competitive labor market, they turn to technology for cost reduction and talent attraction. Automating manual tasks improves customer experience and makes businesses more attractive to potential employees. Alleaz can help businesses find talent that is comfortable with modern technology and can drive digitization and automation efforts.
ESG Drives Executive Action: Customers increasingly demand that companies commit to ESG (Environmental, Social, and Governance) standards. Financial institutions are expected to invest in systems tracking their progress on ESG initiatives. Alleaz can help businesses find talent that is knowledgeable about ESG and can help implement ESG initiatives.
Meeting the Needs of Small and Medium Enterprises (SMEs): As the entrepreneurial spirit flourishes, ensuring straightforward access to capital for Small and Medium Enterprises (SMEs) is becoming a pivotal distinguishing factor for financial entities. Alleaz stands ready to assist businesses in discovering and harnessing the talent that can elevate their capacity to cater to the distinct demands of SMEs more effectively.
Maximizing Security in Financial Institutions: Considering the escalating frequency of cybersecurity breaches, financial establishments are placing a premium on security measures and data safeguarding. Alleaz is poised to aid businesses in pinpointing and securing talent that can bolster their security infrastructure and fortify the protection of customer data. Our role is about filling roles and strategically aligning the right talent to foster a secure and trustworthy environment.
Increased Demand for Financial Literacy Education: As the newer generations begin to navigate the financial landscape at a younger age, the need for education in financial literacy is becoming more pronounced. Alleaz stands ready to aid businesses in unearthing and engaging talent that can foster and amplify their digital presence, rendering financial transactions more accessible and intuitive. Our mission is not just to respond to this shift but to actively participate in shaping it by making financial literacy a more inclusive and engaging endeavour.
These trends underline businesses' multifaceted challenges and opportunities as they strive to stay competitive. In this context, Alleaz's talent solutions can be instrumental in finding the right talent to navigate these trends and drive business success.
The Growing Importance of Talent Acquisition
The realm of talent procurement has witnessed substantial expansion and transformation in recent times. As per a study by SmartRecruiters, a striking 77% of talent chiefs assert that their talent procurement strategies are more focused on generating total value for the organization rather than merely realizing cost reductions, marking a significant 32-point leap from a mere 45% in the preceding year. Moreover, 87% of recruitment specialists affirm that talent procurement has ascended to a more strategic role over the past year (SmartRecruiters, 2023). These figures underscore the escalating significance of talent procurement in propelling business advancement and triumph.
Alleaz: A Trusted Partner in Talent Solutions
Alleaz is a premier partner specializing in Talent Solutions for the Salesforce ecosystem. With a keen focus on Salesforce, nCino, Certinia (formerly FinancialForce), and Fonteva Specialist Recruitment, as well as Permanent Placement and Contract Talent consulting, Alleaz is committed to connecting businesses with the top-tier talent they need to excel in today's dynamic digital landscape.
Alleaz's nCino recruitment offerings focus on bridging the gap between premier financial institutions and the most distinguished professionals in the nCino arena. They extend tailored talent-sourcing strategies that cater to organizations of every magnitude, from agile small-to-medium enterprises to colossal corporations. Their comprehensive constellation of nCino specialists spans a variety of roles, including business analysts, project orchestrators, software engineers, and system stewards.
The Alleaz Advantage
Alleaz's comprehensive recruitment approach encapsulates the entire hiring journey, from delineating role specifications and conducting preliminary interviews to brokering agreements and streamlining the integration process. They are steadfastly committed to delivering a seamless and proficient experience for their clientele. Their mission is not just about filling roles, but about creating meaningful connections that foster growth and success.
By entrusting your nCino talent acquisition needs to Alleaz, you will be better positioned to unlock the full potential of the nCino platform and propel your business forward. Their expertise is backed by in-depth industry research and a deep understanding of the latest trends. At Alleaz, they strive to create seamless hiring experiences, empowering your organization with the right professionals for continued success and growth.
In summation, the importance of consultancy services and talent solutions within the Salesforce environment, specifically in the context of nCino, is undeniably profound. As businesses steer their way through the digital expanse, the requirement for specialized skill sets will inevitably intensify. With its thorough recruitment protocol, Alleaz stands as a dependable collaborator in delivering superior talent solutions that enable businesses to prosper and excel.
Alleaz is dedicated to offering tailored talent solutions to effectively address the growing demand for skilled professionals in the rapidly evolving Salesforce ecosystem.
We are a premier partner in Talent Solutions, bridging the gap between the ever-evolving technological capabilities and the critical staffing needs within the dynamic Salesforce ecosystem.
Contact us today to learn how we can assist you in finding the perfect talent solutions for your business needs.
Let's work together to shape the future of the Salesforce ecosystem.